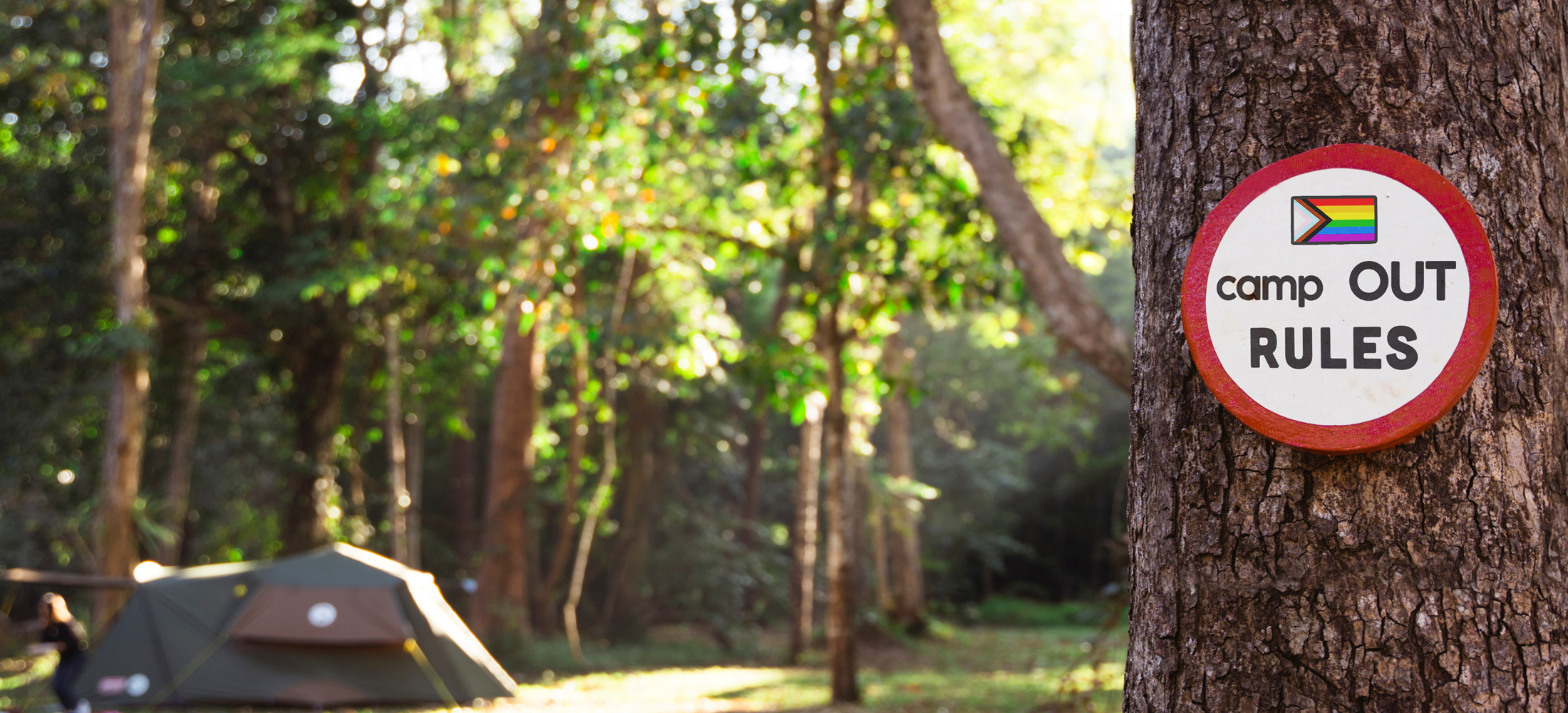 •       Check-In is at 2pm
•       Our season runs from April 15th to October 31st

•       The campground is 21+ and all persons on the grounds need to have a current membership. A valid photo ID will be required for all those checking in, our various passes, and when obtaining a membership. We promise not to make fun of your ID photo.
•       You are required to check-in at the front desk upon arrival to the campground. We are eager to see your happy smiling faces.
•       Check-in is till 9pm on weekdays and 10pm on Fridays. If you find that you are going to be later than those times, please call ahead so we can have someone here to assist you. It will cut into our drinking time, but for you, anything!

•       You are required to wear our wristband at all times, and you will be given one at the time of your arrival. We apologize ahead of time if it doesn't match any of your outfits. If you happen to need a replacement wristband, please bring the broken one with you to the front desk.

•       You are allowed one vehicle at your campsite. If you need additional parking, there is guest parking in front by the store/check-in.

•       If you are a day pass guest, please park in the designated guest parking area. Please let us know if you plan on staying longer than your pass allows, we won't ask why.
•       The speed limit throughout the camp is 5mph. If you feel like showing off, our clothing optional pool is a better place for that!

•       Electric golf carts are permitted. Proof of insurance must be made available at the check-in counter in the camp store. Please do not have any DIY seating added to your cart, we must avoid broken limbs, messed up hair or fractured stiletto heels. You are required to use your front and rear lights when driving at night. Please do not drive while intoxicated. You will be held responsible for ALL drivers and actions in your golf cart.

•       We would love for you to bring your friendly and behaved fur babies (dogs). We do limit this to our guests who are staying overnight or to legitimate service animals. A copy of current vaccination is required before check-in.  Pets are only allowed at your campsite or on a leash while walking. This means no pets at the club, pool, pavilion, and store/check-in, except for legitimate service animals. Pets are not allowed in the cabins and cottages. We ask that when walking your pet please use a leash that's 6ft or less. Please clean up after your pets when walking them or at your campsite. If you do not have poop bags, we provide some through the campground.  While at your campsite your pet must be secured either in your camper, on a leash that does not extend past the site boundaries, or in a fenced area they cannot escape from. No excessive barking or howling will be tolerated. This includes you trying to get that cutie's attention. Legitimate service animals must be cleared by the camp. For ADA and FHA information see FAQ's on our website.

•       The campgrounds' quiet hours are from 11pm to 8am. 
•       There are designated areas for smoking around all public areas. Smoking also includes vaping and the use of hookahs. There will be no smoking of any kind allowed in the club, pavilion, and within the gates of the pool, or within 15ft of the entrances to these places. When disposing of your cigarette butt, please use an ashtray or another disposal container. You're super hot when you don't drop your cigarette butts on the ground.
•       Please only build fires in designated locations for your fire ring—do not grill on cabin decks, cottage decks, on a picnic table or near anything flammable including tents or foliage.
•       Please use the designated areas and bins to dispose of your trash and recyclables. Remember it's cool not to litter.

•       We do not tolerate racism, bigotry or discrimination of any kind. We celebrate uniqueness and diversity at this campground and expect our guests to treat each other with the utmost respect. If you can't honor this then we ask for you not to come to the campground. If you see any instances or experience this yourself, please let someone on the staff know.

•       We do not allow symbols of racism, hate, and discrimination in any form. This includes written, verbal, printed, and all other types of medium.

•       Please refrain from any illegal activity. We do not allow drugs, fireworks, firearms, or weapons of any kind. This includes paintball, pellet, and BB guns.
•       Behavior that is destructive, violent, and overtly offensive will result in removal from the campground and your membership to be revoked and not refunds given. 
•       The pool and its surrounding area are the only areas of the campground that are clothing optional. 

•       Please do not have sex in public. If people want to see that, send them a link to your onlyfans.
•       We know that when you're having a good time partying, you'll want to take pictures, but please refrain from posting any photos or videos taken at the camp without getting approval of all persons in the photo, even if you happen to look very cute in it. 

•       Swimming is only allowed in the pool. Please do not go for a swim in the pond.
•       Anyone using the hot tub needs to be showered, with soap, before hopping in. Please, no "dirty stuff" in the hot tub. 

•       If you're taking a walk on our trail, please don't venture off into the woods beyond posted signs. That's called trespassing and it's bad.
•       We have a laundry facility available for use, please do not wash your clothes at your campsite.

•       Please do not add any harsh chemicals to your holding tank, this could affect our septic system. It is recommended to allow your holding tank to fill before emptying into our septic system.

•       Please do not feed or try to encourage the wildlife to your campsite. You are not a Disney princess. 
•       Please do not cut or remove any trees from the campground. If you need wood, please visit our store for a bundle or try …the club.
•       When you're having a campfire, we ask that you keep it at a reasonable height and never leave it unattended. Refrain from using gasoline, or other flammable liquids. The burning of leaves, plastic, or garbage is not allowed. Make sure the fire is completely out before leaving for bed, or for any other reason.

•       If there is an emergency, fire, or a security issue, please call 911. 
•       If there is any maintenance issue, please report it to the front desk or an on-duty attendant.
•       Please remember you are camping, we do not give refunds because of nature, the weather, or if you decide to leave early.

•       We do not allow the selling of items or business activity at your campsite. All venders must have approval by management before entering the campgrounds. 

•       Please check the FAQ page on our website for the cancellation policy and for other useful information.
•       Follow all posted rules. Posted rules take priority over these and other printed rules.
•       Exceptions to these rules will be made in writing by the campground management.

Finally, please enjoy yourself! Here at Camp Out we'd love for everyone to make new friends, catch up with old friends, and make memories that you will look back on fondly for years to come.